Water dumbbells are available in 3 sizes depending upon its density.
They are lighter on land and are heavier inside the water.
Foam used to make this aqua dumbbell are researched by Dr. Prachi Shah Arora in different depths, climatic condition, chlorine levels to make sure they don't soak water, dry quickly and last longer.
The handle to hold this aqua dumbbell is also studied by Dr. Prachi to make sure that all age group and individual with different cases can use for fitness as well as rehabilitation without having any wrist pain.
These aqua dumbbells are manufactures and patent by Dr. Prachi Shah Arora. She is the only one in India to sell them at less cost and much better quality.
This stretch strap helps you to do your stretching exercises without any strain on shoulder or wrist.
It is non – elastic in nature.
You don't require help of anybody to tie your leg or hook your arm into. Loops made around this strap are very easy to handle and gives good grip.
You can use this stretch strap anywhere; it hardly weighs around 100 grams. Just roll the strap and put it in small bag.
Entire body flexibility exercises can be done with this stretch strap cord.
We use blackroll products at our clinic and suggest the same to our clients. It has a very good foam density and lasts long. Used for all age groups and all conditions. It helps in releasing the fascia, deep muscle knots with applying less pressure onto it. You can use them anywhere and carry in your gym bag/purse as well as they are very light weighted.
Peanut foam ball
Used for releasing entire spine. Because of its design it doesn't put a pressure over the spinous process, so even thin build people can use it. It comes in 2 sizes.
Foam Ball
Used for releasing localize trigger points. Its texture makes sure that it doesn't slip off while doing the exercise. It comes in 2 sizes.
Foam roller
Used for releasing big muscles of leg and shoulder girdle tightness and deep fascia. Groves present on it lasts longer with multiple usage and very well helps in massaging deep fascia and muscle. Its density is very good and doesn't break even being hollow in center. Vibrator can be purchased separately to give an additional massage effect which can be fitted inside the foam roller.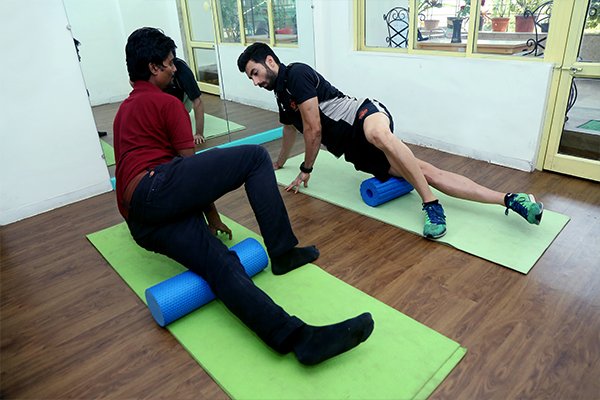 Mini roller
It serves the same purpose of foam roller but very tiny in size comparable to foam roller. It is majorly used for releasing plantarfascia and arm muscles.