Prachi Shah Arora has seen over 10,000 patients in last 10 years of her experience. She herself has managed around 10 Aquatic fitness batches per day for 3 years continuously.
She has treated more than 450 athletes of various different sports. 75 international athletes, 150 national athletes and 25 Olympians and it goes on..Her physiotherapy career started in the year 2008 where she was selected on her merits to be a part in the refugee camp and do observership in orthopaedic hospitals in Mumbai. She completed Bachelor's in Physiotherapy in 2010, Master's in Sports Physio therapy with honors degree and hospital management with 3rd rank in India in 2014. In the year 2011 she became one of the 160 doctors of India practicing Manual therapy and earned her 2nd degree as internationally recognized. The same year, Dr. Prachi was the only Indian selected to work with South African Sports rehab Centre and Australian Fitness gym in Mumbai.
As a Sports physio she is working for Indian swimming and diving team, associated with Michael Phelps swimming school, Swimming Federation of India, K11 Academy of Fitness Science and Xtreme Sports India. She has her clientals in Mumbai, Ahmedabad, Delhi, Amritsar, Bangalore, Pune, Trivandrum, Jaipur, Raipur, London, Phuket, Toronto, California, San Francisco, Nairobi, Kenya, New Zealand and Australia. She is a physio for Bollywood celebrities and also involved with movie projects.
Prachi Shah Arora has passed many exams and got certification for certified mulligan's practitioner, certified kinesio taping therapist, certified aquatic therapist, certified YOS master trainer. She carries those degrees with her BPT, MSPT-Hons., CMP, CKTT, CATF, YOS master trainer. Recently she is doing a 5 year course of water shiatsu practitioner which is recognized as WATSU course in abroad and in India. She completed 3 levels and she topped amongst 11 countries. She has more two levels to be done and get Watsu certification as a degree to her name. She like to be updated and help her patients with best of her knowledge.
She is also a member of Indian fitness trainer association, OT-PT Maharashtra council and IAP council. She is a CPCR certified professional.
She as the resource person has taken over 50 workshops in 5 years for physiotherapists and occupational therapists all over India; and built a network of more than 1000 physiotherapy students, professors and professionals who did their training with her in the workshops conducted by IIPT. Indian Institute of Physiotherapy training was started by Dr. Prachi and Dr. Harsh Vekariya in 2016 to encourage physiotherapist to learn advance physiotherapy techniques. She believed in sharing her knowledge and experiences. IIPT provides scholarship to the enthusiast physios who wants to treat their patients thinking out of the box.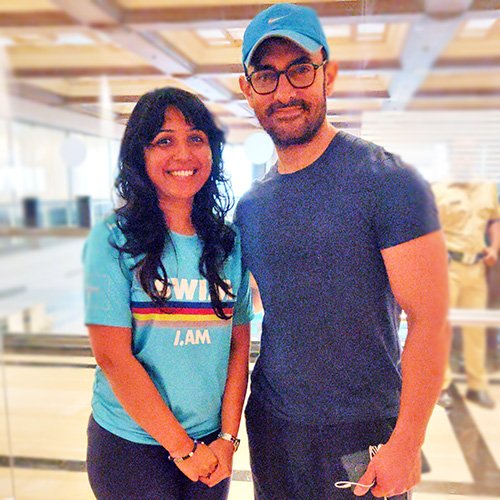 Dr. Prachi has achieved many recognition and awards for her work and teaching skills in different universities and conferences and workshops for her topic on Aquatic therapy. Professors, Dean, Principal, students, professionals were a part of her aquatic workshop, manual therapy and sports injuries workshop. She did many surveys and research work and developed her own aquatic exercises. She won an award in 2nd International Physical therapy conference for her article on Aquatic therapy versus land therapy in swimmer's shoulder condition. Article even has got published in a journal of Human Biology. She has done a 2-year research work on aqua dumbbells and has made her own aqua dumbbells which she manufactures and are even available on amazon.
She has earned her name as mermaid of physiotherapy in BPN conference and she has received an award for Best Sports Physio Rehab centre of India 2019 at FEA because of the way it is designed and has aquatic therapy facility in her centre where all forms of cases are seen under one roof like; pre-natal, paediatrics, musculoskeletal, neuro, geriatrics, sports, fitness, vestibular rehab, etc. Her centre is unique with automated treadmill made for the 1st time in India which is completely submerged in water and has a speed of 21 km/hr which goes in forward as well as in backward direction. She is a consultant for hydrotherapy and aquatic therapy pools in India.
2019 she did consultation and sports assessment for 18 FINA sponsored Olympian swimmers from different nations. Apart from swimmers, various sports people are been treated by ma'am and her team.
Her interview was taken by Times Of India newspaper and DNA paper for aquatic therapy and being receiving awards as a youngest sports physio. She wrote safety instructions for aquatic therapy norms in India.
Dr. Prachi Shah Arora has worked with Taapsee Pannu and other co-actors as a sports physio for the movie Rashmi Rocket in 2020.
Experience with Physiotherapy Centres
Asian Heart Hospital
Breach Candy Hospital
B.D. Petit Parsee General
Cooper Hospital
V.N. Desai Hospital
Sai Kripa Hospital
Sarvodaya Bidada Trust
H.J. Doshi Hindu Sabha Hospital
Sai Clinic
Profit Ortho & Sports Rehab Centre
Elite Fitness
HEAL Institute
K 11 Academy of Fitness Sciences – Mumbai
Balaji telefilms
Mango people media
Researches & Surveys
Best treatment for trapezitis.
Advanced exercises for Low back pain specially prolapsed (slip) disc.
Manual therapy for cervical spondylosis.
Taping techniques for heel pain.
Best treatment for Osteoarthritis of knee.
Ideal treatment for Shoulder injuries.
Shoulder injuries in water sports.
Proprioception in hand injuries.
Aquatic therapy in ankle injuries.
Aquatic therapy in PCOD.
Aquatic therapy in Knee Soft Tissue injuries.
Aquatic therapy in Swimmer's Shoulder.
Aqua Fitness in Obesity.
Aquatic therapy in Parkinson's.
Aquatic therapy Marathoners
Participated as a sports physio in Events
9th & 10th Asian age group championship for swimmers and divers.
Standard chartered Mumbai marathon for 5 years.
Tata Mumbai marathon for 2 years
Gujarat refugee camp.
Gujarat pilgrim camp.
Panther air force camp for 2 years.
National Hockey League.
National Judo competition.
National junior, senior and master championship of swimmers.
Rashmi Rocket Bollywood movie starring Taapsee Pannu.
Everesting run 2021
Life Member of Indian Association of Physiotherapist. (L – 35111).
Life Member of Jain Doctors' Federation, Mumbai. (E- 21976).
Certified Advanced Fitness Instructor, Reg no: IAFT9012